Here are the best Convertkit alternatives for email marketing –
1. ActiveCampaign
2. Constant Contact
3. Drip
4. GetResponse
5. HubSpot
6. MailChimp
7. Ontraport
8. Sendinblue
9. Emailoctopus
10. Mailerlite
These days the advancement in technology has been to quite a great extent. People are now actually looking forward to a better solution to stay connected with customers and thus improve the business. When it comes to staying connected with customers, it is important to have good email marketing to grab more attention.
In today's time, for the e-commerce stores, it is important to retarget the existing customers and even stay in touch with the potential ones for which ConvertKit can be a great option.
Know more about ConvertKit?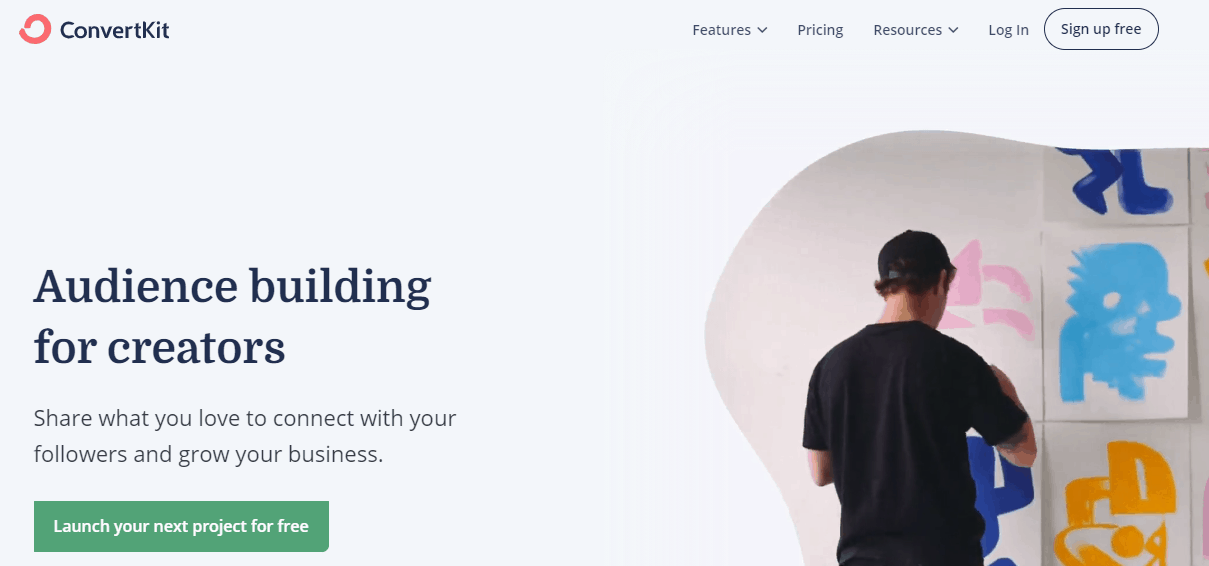 Well, this is one kind of efficient email marketing solution that you can consider. However, there have been quite many other alternatives that have come up with many features. This would give you a scope to make the choices amongst them for your brand.
Whether you have been searching for the right way to come up with a sensational email or looking for the tool that can let you have an automated campaign setup done with transactional details, you might want to know different ConvertKit alternatives that can work the best.
Features of ConvertKit
Before understanding the alternatives of ConvertKit, you might want to make yourself aware of this tool and how its features can be helpful. As said earlier, it is an efficient marketing tool that can boost your business.
But what you may not be aware of is the features that can help your business blossom in the e-commerce sector with lucrative results. Convertkit has a wide range of features that can help your business grow. Talking of which some of them are:
1. Automation
It comes with the automation rules and line segmentation by which you can create the funnels that could be targeted and thus make email marketing more efficient
2. Email designer
This type of option can help create a much simpler email that comes with images, CTA buttons, and even other HTML uses that can be chosen if you wish to go further technical.
3. Integrations
This is the feature by which ConvertKit can be well integrated with different apps and tools so that automation strategy can be more efficient.
4. Landing pages
If you don't need a website, then it is possible to create landing pages. This way, you can collect important data of the customer and thus create your own email list.
5. Signup forms
This is a better feature for creating some custom signup forms. This way, you can have your audience's confidence even more.
With all the above features, you certainly make the right use of email marketing automation. After all, with such a powerful tool, you can deliver the right message to all your followers. ConvertKit can make your job easy by creating the landing page tools. Otherwise, there are also different alternatives you may want to consider.
How ConvertKit Alternatives Help Your Business
There is no doubt that Convertkit is an amazing resource for different businesses. But there are different alternatives that can be suitable for the business too. These alternatives come with some features and even fit better within the budget. The right feature is important when selecting email marketing software.
It has a streamlined choice of tools and features, but certain things might not be present in ConvertKit. However, some features have robust solutions in other ConvertKit competitors providing email marketing options.
Talking about the way it can boost your business, here are few things to know:
1. A complete solution of CRM solution
Too much contact lust is extremely important for any business, especially when maintaining the email list that converts. It is easy for the business to track the contact's history and action with a CRM solution.
2. Drag and drop editor
This option works more like a simple editor, which comes in your package only. However, the best alternative comes with an extensive choice of layouts, templates, and even editing options. This lets you make emails that would grab the readers' attention.
3. SMS marketing tools
Text message marketing has been trending for quite some time now. The e-commerce stores can take benefits of the same. Use the right tool that can boost your promotional offers and account updates and thus track down the SMS metrics.
4. Domain registration
It is possible to create the landing pages in the ConvertKit along with some other alternatives. However, the only right solution is for you to register a domain and set a website.
With these amazing ways, it is possible to make the right use of ConvertKit and boost your business. Also, there are different alternatives that can be useful too. But it would be best if you did quite a good research on the same.
Top 10 Best ConvertKit alternatives for Your Email Marketing Campaigns
Below is the list of best Convertkit alternatives you can choose from –
1. ActiveCampaign
ActiveCampaign is one comprehensive ConvertKit free alternative to manage emails and customers as well. Since they don't have robust email designing ability, it offers quite an array of productivity features. This includes:
Marketing automation tools
Messaging solutions
Email marketing tools
Sales and CRM platform
Machine learning capabilities
With an active campaign, you get a free trial choice and different plans that start from $9 monthly. The prices of the plan can vary depending on the feature and the contact list size.
2. Constant Contact
This is another option that has been used on a wide scale for email marketing as one efficient tool. It comes with better marketing applications than ConvertKit. There are different features of it that focus on helping the organizations that are non-profit ones or even the small and medium scale business.
This way, the subscriber base gets booster, and you would be able to balance a good relationship with customers. Some of its amazing features are:
Event management: Whether it is to collect the custom registration detail or send an email invite, this can be helpful
Image library: You get access to ample high-quality free images that can be used for marketing emails.
Customer surveys: You can gather feedback from your target audience without any hassle
3. Drip
Drip is an amazing e-commerce alternative for ConvertKit. A streamlined choice of email marketing features has been that can help make the campaign a lot more effective yet simple. Talking of which some of the impeccable features are:
Ecommerce integrations
Email personalization tools
Audience engagement tools
Customer data tools
Multichannel automation
Optimization tools
You can get a 14-day free trial from drip so that it is possible to experiment with different features. Their basic plan itself starts from $49 on a monthly basis.
4. GetResponse
Whether you want to set up the autoresponder or send the email broadcasting on a regular basis, GetResponse is the best option to focus on. It is quite a simple way by which you can manage email marketing in a single place. This option is one drag and drop editor that is extremely easy to use.
You may take some time to get acquainted with the features, but certainly, you will have an amazing experience. If you compare it with ConvertKit, you get a comprehensive landing page creator with some classic automation features. You also would get an integrated webinar software that has been created for fetching the high rate of conversion.
5. HubSpot
This is another best ConvertKit alternatives to consider, which is available to the online business. However, it is easy to use and make the best out of the features for the services that you may require. Talking of the features, some of the impeccable ones are:
Marketing automation tools
Custom reporting
Email marketing tools
Landing pages
Additional Enterprise features
As per the contact list size and the features that you need, HubSpot comes with a plan that begins with $50 per month. There is also a next tier which begins at $800 per month.
6. MailChimp
You can count on Mailchimp, which is quite known and the top ConvertKit alternatives. This is one of the efficient email marketing platforms which was founded in the year 2001. It can also offer other integrated marketing services using Mailchimp. With Mailchimp, you get features such as:
Lookalike audience finder
Sign-up form builder
Landing page builder
Behavioral targeting
Business card scanning
Insights and predictions
With these options, you can grab the attention of the customers at the same time.
7. Ontraport
This alternative is amazing since it provides a suite of tools made for the e-commerce business that needs to make a whole digital marketing plan. Besides, there is also a comprehensive system of support it offers that includes:
Marketing automation tools
Landing pages
Membership sites
Email marketing tools
Referral programs
Initially, you can use a free trial option of Ontraport; otherwise, there is also a plan that starts at $79 per month. There might be some increase in the plan as per the price as you shall add more features and thus grow the contact list.
8. Sendinblue
For those who want to streamline that email marketing tasks and even automate mundane activities, this is the best alternative to choose. It comes with a free plan, and in many ways, it is a better option to choose.
It offers some of the extensive plans which over other email marketing services are totally worth choosing. Other than this, Sendinblue has got the model of email automation, which is powerful and handy. It lets to set the perfect trigger on sending the mail depending on the action of the user and even the events.
There are some of the best examples of automation such as sending the promotion depending on the shopping activity of the customer, emailing the customer with a better gift voucher on special days like birthday and even sending a gentle reminder email where if the customer has abandoned the cart, they can be intimated.
9. Emailoctopus
This has also turned to be one of the best alternatives with sheer potentiality. It is available at an affordable value, but for this, you must have an amazon web service account. It may lack some of the best ConvertKit features, but it has the Shrimp plan, which offers users free service.
This means the user can get up to 2,500 subscribers. If you further upgrade to the tuna plan, then there would be 10,000 subscribers offered along with complete automation that would cost $19 a month.
10. Mailerlite
This option comes with web forms, email editor, template management, landing pages, and even dynamic content. This makes it quite simple and even easy to use. Just the way ConvertKit, you can get ample features with Mailerlite such as drip campaigners, autoresponders, and even the event-triggered email. Those who have a small business or are just beginners can consider Mailerlite.
FAQs on Top ConvertKit Alternatives
Is ConvertKit better than Mailchimp?
Short and simple, the above options are some of the best Convertkit alternatives. But ConvertKit is still better than Mailchimp as it offers easy usage and comes with some event plans.
What is the price of ConvertKit per month?
ConvertKit comes with two plans on a monthly basis. The first one is the creator whose package begins at ₹2140 per month, and the other one is the creator pro, whose package starts at ₹4354 monthly.
Is ConvertKit free?
You can avail of the free plan offer of the ConvertKit, but it is restricted to 1,000 subscribers. It also comes with some of the different features that are basic ones but best to use. Later depending on the budget, you can upgrade the plan.
Does ConvertKit provide a mobile app?
As compared to the competitors, ConvertKit doesn't really offer a mobile app till now. The only choice you have is to log in to the web app from a mobile device and thus manage the account.
Conclusion on Alternatives of ConvertKit for Your Email Marketing
If you have been looking out for the best email marketing software for the business, then, of course, you will not run out of options. But before you make the decision on the best ConvertKit alternative for the business, you need to have clarity on few things.
This includes the contact list size that shall drive the overall package, the plans and features you need, and the overall integration of software and app that can boost email performance. You need to keep the whole marketing plan in mind and then decide the best suitable solution.
Also Read: Best MailChimp Alternatives