When customers start blogging or launch their new website, they would definitely need a web hosting program. Finding a great web hosting program is not that difficult as there are multiple such programs in the market.
One of the best and WordPress-recommended host is Bluehost.
This has been a tremendously helpful hosting company for hundreds of sites of customers and gives support when you begin to build your website.
Therefore, if you are looking for getting amazing affiliate programs, then experts have recommended Bluehost in unison.
You can use Bluehost to increase the visibility of your website and also, your visitors will see which hosting site you use. You can successfully earn huge from their referrals.
There are a good number of ways to make money with Bluehost.
Customers can earn money by promoting Bluehost's services in your websites, social media platforms, and in personal interactions.
In this Bluehost affiliate program review, you will learn more about how to make more money by its affiliate program.
You will also get insightful information on different aspects related to Bluehost such as their commissions, payment method, sign-up process etc.
Join Bluehost Affiliate Program
What Type of Products Are Featured?
Bluehost has been very popular by the dent of their speedy hosting services as compared to other budget hosting companies.
Pitted against many companies in the market that offer high commission rates, none of them has been able to beat Bluehost and bloggers, webmasters, and internet marketers make a beeline for Bluehost.
They offer a wide array of hosting options such as shared servers, virtual private servers, and dedicated servers across different offers and rates.
Each of its services differs in the following aspects:
Storage space for images and files
Number of websites you can host
Email storage limits
Spam experts assigned to you
Domain privacy
Number of email accounts
Shared and dedicated servers
There is a number of packages and you can select the one which fulfills your needs the most.
Their entry level package is available at $2.95 which is very affordable for even the most basic of users.
Commission Structure for Bluehost Affiliates
Bluehost web hosting affiliate programs have been offering highest commissions, paying commissions to the tune of $65 per sale to the affiliates.
In 2015 itself, Bluehost reportedly paid over $ 5 million to its affiliates. This amount is just for a single sale through the affiliate account.
Therefore, if you have made ten sales in your affiliate account, the commission will amount to $650.
This means if you make 30 sales in a month, your commission will reach the figure of $1950.
If you are making 5-10 sales per month, Bluehost might even increase your sales bounty to over 100-125$+.
People can easily sign up for Bluehost Affiliate programs and you must have a PayPal Account to get paid.
If you are a new partner, then you will also have to provide tax information.
Payment Method for Bluehost Affiliates
Each affiliate program offered by hosting websites comes with different agreement terms regarding how you earn and when you earn.
In that sense, Bluehost's affiliate terms are simple as any customer who clicks on your affiliate links will have 90 days' time to sign up on the Bluehost package.
Once the customers purchase the package and maintain their site for a period of 90 days, you become entitled to a commission.
Bluehost will pay you only after you have reached a minimum of $ 100 in your account. Your payment will be directed into your valid PayPal account.
Do ensure that you have an active and valid PayPal account otherwise, a fee will be deducted for invalid accounts.
The referral amount through Bluehost can be compared to other programs which offer either a set or ranging amount which is approximately between $50-100 USD.
Bluehost provides round-the-clock customer service with all its packages where you can resolve all the queries and get any kind of support needed.
Whether a simple question on-site setup or a more advanced HTML issue on the code is needed, Bluehost has been found to be ready to lend any sort of help.
Steps to do for Joining Bluehost Affiliate Program in 2023
How to Register with Bluehost?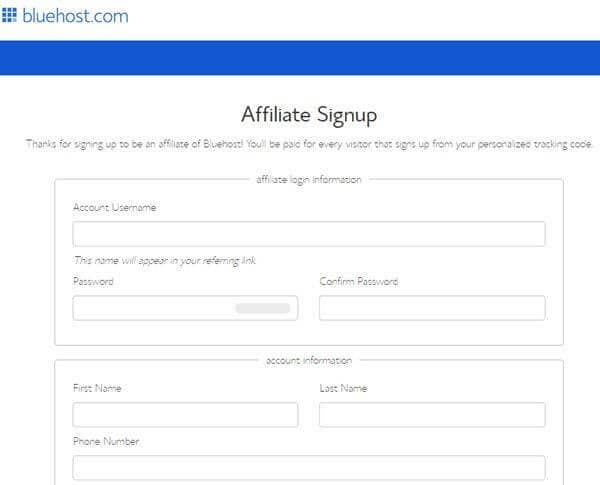 Becoming a Bluehost affiliate is a simple three-step process.
Make a registered affiliate account at Bluehost.
Choose the tested creative and put them on your website or blog.
Get Commission for every sale that is generated through your website.
If you still have any queries with respect to the program or Affiliate Support, you can call directly or send an email at [email protected].
What are the laws of Taxation?
Once you have logged into your Bluehost Affiliate Panel, you will be asked to fill a tax form which is necessary for getting payments.
Bluehost has a different process of filing the tax form for each country. But generally, there are two types of tax forms:
W-9 Form: For US Citizen or Business (Resident Alien, Corporation, etc.)
W-8BEN Form: For non-U.S. Persons
Indian affiliates of Bluehost need to follow these steps
Go to the W-8BEN form.
Enter the EIN number.
Leave all the fields under the "Claim of Tax Treaty Benefits" blank.
Then write your complete name under the Signature Field.
Lastly, submit the tax form.
Things to do after Joining Bluehost Affiliate Program
Step 1.
Head directly to the Bluehost.com website and click on "Shared Hosting" under hosting.
Step 2.
Browse the web hosting package and select the one depending upon your preferences.
Step 3:
Then, register a new Domain Name.
Step 4:
Now, add your account details and preferred domain name. If you want, you can select additional "add-ons". Proceed ahead by clicking on "continue".
Review your hosting package details.
Now enter your payment information.
Agree on the terms and conditions and click on "submit".
Reasons Why Bluehost Affiliate Program is Popular
Bluehost is a popular brand, among the users as well as non-users. Today, bloggers are increasingly referring to Bluehost in their websites. There is an impressive array of advantages associated with using the Bluehost affiliate programs.
One of the main reasons behind the popularity of Bluehost affiliate programs is its broad spectrum of service available for the users and that too at affordable prices. A large number of new as well as intermediate web designers is becoming the Bluehost affiliates due to their wide range of services.
Whenever you get stuck in the process or face any issues, they have 24×7 customer service to resolve your problems.
Bluehost also uses the latest cPanel which brings you robust plugins, analytics tools, SEO tools at your disposal. Therefore, entry-level users will find it extremely easy to navigate the configurations.
Another advantage is that users do not have to pay anything to become a Bluehost affiliate. There is only minimum investments and greater returns at Bluehost.com.
How to Make More Money with Bluehost Affiliate Program in 2023
Do you want to increase your Bluehost Affiliate Earnings? Follow these simple steps and you can make it big on with Bluehost affiliate program.
Make sure that you use banners on your blog. There are ample free banners available on Bluehost's Affiliate section.
Affiliates can also write high-quality Bluehost affiliate reviews on their blogs and include the Bluehost Affiliate link in your posts.
You could also think of giving prizes to new customers.
You can make use of social media such as Facebook, Twitter, Google+, etc. to publicize your affiliate campaign.
What are the alternatives of Bluehost Affiliate Programs?
There are two very popular alternatives to Bluehost: Flywheel and WP Engine. They are almost akin to Bluehost in terms of services but slightly different when it comes to referral commissions, offerings, and cost.
WP Engine functions similarly to Bluehost however, their platform supports only WordPress. They have simplified and optimized the WordPress platform which is easy to manage and naturally increases your traffic.
With WP Engine you can operate as many sites as you want and all this is available at a faster speed. Users will also get site suggestions that are very helpful for optimizing their SEO.
The commissions offered by WP Engine are $200 or 100% of the monthly payment, whichever is higher. Though they pay higher than Bluehost, their packages are also priced high as compared to Bluehost.
The flywheel is another WordPress optimized platform which hosts your website and provides services similar to Bluehost. The commission offered by them is 3 times the monthly payment of the plan selected by the customers. The commission is higher on Flywheel and depends on the customer base as well as the type of package you have selected.
FAQs on Bluehost Affiliate Program Review
Can you make money with Bluehost affiliate?
Yes you can make money with Bluehost with 65$ per sale
How do I promote my Bluehost affiliate?
You can promote Bluehost via blog posts, YouTube videos, email newsletters and much more
How do I become a Bluehost affiliate?
You can become Bluehost affiliate after registering on Bluehost website
What is primary URL in Bluehost affiliate?
Primary URL is your affiliate link in Bluehost affiliate
Final Thoughts on Affiliate Program Review for Bluehost in 2023
We hope that you would have got all your doubts cleared in this review. You have also got a fair understanding as to how to augment your commissions on Bluehost. So, what are you waiting for?
Go ahead and log into Bluehost, select your package, and start earning your commissions.
Also Read:
MilesWeb Affiliate Review
A2 Hosting Affiliate Review
Namecheap Affiliate Review
Explore other useful categories on blog homepage – BloggingIndian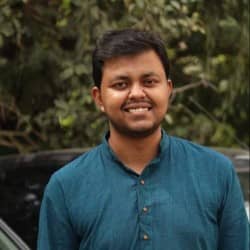 Latest posts by Sufyan Shaikh
(see all)