Looking for GeneratePress vs Gensis compaerison?
You are on the right place.
For creating a flourishing website, it is necessary to pick the best and most gripping theme.
A theme has a critical role in the way your website looks along with its SEO ranking. In this day and age, there are hundreds of different themes that you can choose.
However, two general favorites, loved for their numerous qualities by several professionals, are Genesis and GeneratePress.
Also Read: Schema Theme review
If flexibility, speed, and search engine optimization are on your list of priorities, GeneratePress and Genesis will help you cross them out.
Genesis and GeneratePress are the preferred theme options for creating websites in WordPress.
Genesis has a big reputation for being lightweight and providing optimized WordPress themes.
On the other hand, GeneratePress has a rather direct approach while creating a website and is easily accessible to beginners and novices.
It is often a topic of debate, Genesis vs. GeneratePress, which is the ultimate theme?
This article might help clear out some of your confusion.
GeneratePress vs Genesis: A General Overview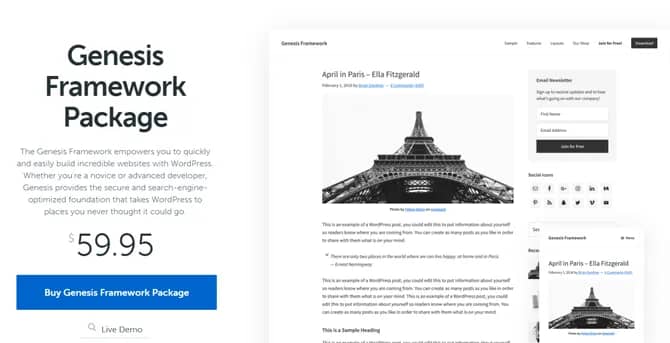 Genesis is an all-time favorite and has some of the best available WordPress themes.
It is well known for its clean code and responsiveness.
There is one thing you need to bear in mind before deciding to go with Genesis.
You will need to install the Genesis framework before you start to build a website.
The Genesis framework is very dependable. It lets professionals and developers create designs and child themes easily.
It was developed by StudioPress, which is a WordPress theme and plugin developer.
The design of Genesis themes is such that they are faster, safer, SEO-friendly, and easy to use.
It is pretty easy to get started with the Genesis Framework and Genesis Themes.
To build a website, all you need is to install the framework, followed by the Genesis Child theme.
This will let you modify the theme and construct your website from ground zero.
Genesis theme offers hundreds of premium child themes; you can decide to opt for a premium theme or a free one.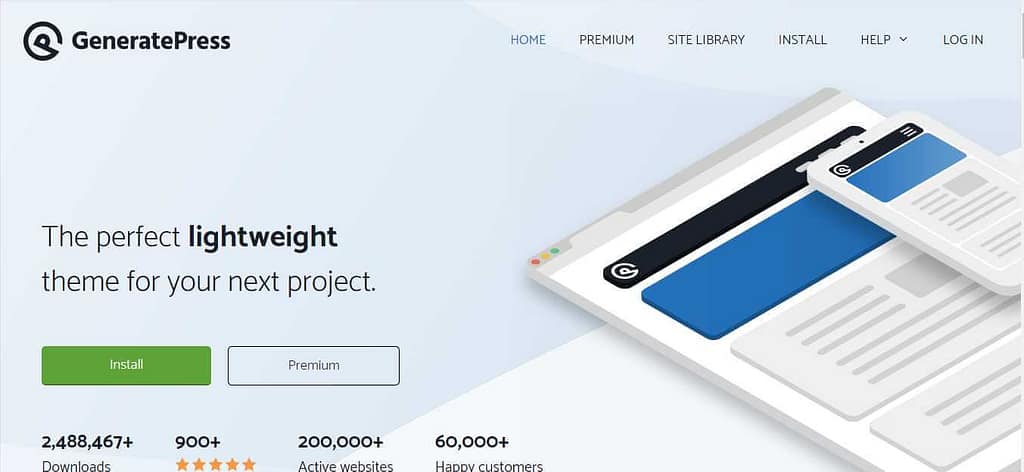 GeneratePress, on the other hand, is a widely recognized freemium theme.
Renowned WordPress developer Tom Usborne developed its framework.
The main goal of GeneratePress is to reach maximum speed and allow users to set up their website without the help of an expert.
There are two versions available, a completely free version and a paid one giving you more control over your customizations.
Although the free version is a masterpiece in itself, the premium version comes with an even sturdier WordPress theme.
The Premium version outdoes the free version. Thanks to its enormous templates library, customization options, and flavourful designs.
For people with little to no experience, GeneratePress facilitates the website-making process with its collection of demo sites.
Furthermore, due to its lightweight nature, it helps websites load faster.
StudioPress vs. GeneratePress, read on to decide for yourself which theme is your favorite in terms of performance.
GeneratePress vs Genesis: Features
Needless to say, both themes were made with the users' and developers' interests in mind.
While each theme is reliable and holds its weight, you must familiarize yourself with its features before investing in a tool.
This will help you understand what you stand to gain and take you a step closer to deciding what's better for you when referring to Genesis Framework vs. GeneratePress.
GeneratePress Features
GeneratePress offers a free version that is as good as any premium version.
It has a pre-existing wide range of features, which only gets greater with the addition of premium features.
The Customizer: The customizer contains the vast majority of the things you need to modify the look of your site. Here, you can get to the settings for colors, typography, design, gadgets, foundation pictures, and other customization and format choices for practically all components of your site.
Performance focused and Fast Loading: Something commendable about GeneratePress is that it is 30KB in size, and the coders continue to attempt to decrease its size still. This makes it fundamentally quicker and is likewise the reason behind why it gives noteworthy execution.
Theme Customization Options: Regardless of what WordPress you pick, you will get plenty of customization choices. In any case, with the paid rendition of GeneratePress, you can surpass the designing limits. It enables you to change each part of the site, from the header, footer to blog area, sidebar design, and more.
Simple Page-Level Settings: In most WordPress themes, the settings for each of the pages are similar. Though you could have the freedom to make changes to the blog post, there would be a few limitations. GeneratePress offers a Layout Meta box on each page of your site. This Meta box permits you to pick the sidebar direction, oversee numerous different components, which assists you with the designing of each page or post in a unique way.
Unmatched Customer Support: GeneratePress boasts unrivaled customer service. They offer support around the world and promise that it is just as speedy as their loading time.
Genesis Features
Genesis Framework is a prerequisite in case you wish to utilize Genesis.
When you install the framework, a new foundation will be made for the child theme.
So, when you make any enhancements in the theme, it may only be reflected in the child theme.
This theme is suitable for people who wish to customize themes in their way and are well versed in CSS, PHP, JavaScript, etc.
If you lack the experience, you could always use a decent website builder.
Genesis offers the following main features.
SEO Optimized: The best aspect of the Genesis Framework and Genesis theme is that they are completely SEO optimized. The Genesis child themes consist of clean code and are SEO optimized to assist you with better performance on search engines. All the child themes and Frameworks are built on HTML 5 and hence are, by default, responsive.
Easily Customizable Child Themes: By blending the Genesis Framework and the child theme, it is possible to customize the website according to your liking. You don't require the help of a designer. The customizer is flexible and easy to use.
Unlimited Everything: This is the best advantage of investing in Genesis. Even if you purchase the low-price package, you will still get unlimited access to everything. It is an incredible asset for individuals who deal with numerous clients as they can undoubtedly deal with the planning of various sites without going through any additional purchase.
Impressive Security: These days, it is necessary to take action to keep your website protected from hackers. The good news is that WordPress offers multiple plugins to enhance web protection. StudioPress works with top-level security experts to deliver a Genesis Theme with world-class security features.
Customer Support: StudioPress understands the value of customer support. For this reason, they have formed a community of developers and designers from around the world. They are well known for providing fast customer support.
GeneratePress vs Genesis: The Battle Between Pricing
GeneratePress Pricing
The prices of GeneratePress are pretty affordable and flexible.
It is one of the best themes available for WordPress under a budget.
It offers a freemium version, a free version almost as good as the premium version.
It comes with several different features and customization options with a few limitations.
You can buy the premium version for a year for $49.95. It comes stocked with all advanced features that improve website building.
It also grants complete access to existing website templates and all premium modules.
There is no limit to the number of websites on which you can use premium.
Though, there are a few limitations on themes.
GeneratePress premium also comes with a year's worth of premium updates and customer support.
And if this is not enough, it also offers a 40% discount on yearly license renewal once the year is over.
For individuals who are still not 100% satisfied, there is also a 30-day money-back guarantee.
Genesis Pricing
If you plan to build a website with Genesis, you will require the Genesis Framework and Genesis Theme.
The framework itself will cost you $59.95.
For the next step, you'll need to purchase the StudioPress Genesis Child theme for $99.95. One more option is to buy any premium Child theme bundled with the Genesis Framework together for $129.
The interesting bit is that StudioPress offers hundreds of Genesis Themes to choose from. There is no limit to the customizations that you will be able to do.
For big agencies, StudioPress offers a Pro Plus All-Theme package at $499.95.
This comes with a Genesis Framework access as well as all existing themes plus all upcoming Genesis Child Themes.
GeneratePress vs Genesis: Pros and Cons
GeneratePress Pros
Performance focused themes that do not disappoint
Entirely Search Engine Optimized, so no need for help from experts
Exceptionally lightweight with a size of only 30KB
It comes with multiple pre-existing sites for easier customization and designing
It offers a pocket-friendly version aside from a completely free version
It is compatible with all page builders and WordPress plugins
Quick loading speed
It comes with an in-built schema.org structured data
GeneratePress Cons
No flexible pricing options
Needs renewal from time to time because of no lifetime payment
Some developers don't like the straightforward look it offers.
Genesis Pros
Offers hundreds of responsive child themes to choose from
Easier to design with multiple custom widgets and layout options
Once purchased, you can use the theme on multiple websites
Lightweight, clean coded, and fully SEO optimized
Provides top-notch security against malware threats and hacking
Once you buy it, you get a lifetime of updates and all new child themes in the future.
Genesis Cons
It is compulsory to purchase Genesis Framework and a theme before making a website.
It is a little expensive in comparison to GeneratePress.
Summing Up
GeneratePress and Genesis are both formidable themes.
While it is unfair to pit the two against each other, the idea of GeneratePress vs. Genesis Framework still leaves you with the question of which one to choose.
Both themes are solid choices in terms of design, customization, and performance.
To pick the right one for you, you need to assess your requirements, what you expect from the theme, and then decide what you want.
If you're a designer and have some coding experience, the Genesis theme is the ideal decision.
Since the Genesis Framework has a designer-friendly approach, you must have coding knowledge to modify your website.
The core Genesis Framework is well-coded for providing better performance and fast loading times.
On the other hand, if you wish to make a fuss-free website with limited or no coding experience, GeneratePress is the right choice for you. GeneratePress is lightweight, with easy customization options, making it the best choice available for beginners.
With an affordable price of $49.95 a year, GeneratePress is the best choice for novices as it is both affordable and beginner-friendly.
Also Read:
GeneratePress vs Astra
GeneratePress vs Schema Theme
GeneratePress Review
Latest posts by Sufyan Shaikh
(see all)