In order to start with a food blogging solution and earning some money out of it can be a great deal, especially in a time when the internet is playing a dominating role is certainly the best thing.
But there are some ways of doing that.
Often first-time users have no clue on how to start a food blog and make money especially when it comes to the food niches.
Those who are not at all tech-savvy people often find this even more challenging and that is why here are a few things that need to be known about starting a food blog and earning good money from it.
Also Read: Blog Topic Ideas for Beginners
Why There is a Need to Start a Food Blog?
Initially, first-time users often have burdens of questions on how and why food blogging should be started.
The primary mistake that they usually ignore is on understanding whether the blogging platform that they are choosing is the right one or not.
That is why it is highly advised to use options like WordPress.org when it comes to how to make a food blog and earn money that can work as bliss since it offers access to different features of WordPress and of all things it helps in making money from the blog without any kind of limitations.
It is extremely important to never confuse WordPress.com and WordPress.org.
Both are different platforms but offer amazing results.
When it comes to a hosted blogging platform, WordPress.com is the best while WordPress.org is the self-host platform that is available free of cost.
The reason why it is free is simply that it is the individual who must do everything right from the setup to hosting it.
The domain name is extremely important for the site which of course people shall refer to in the future.
To be precise, starting a food blogging can give recognition and a platform to meet ample users who share some interest or want to explore more in the food niche that you have been sharing.
Creating a domain name gives them an idea of how to reach out to your work and get some tips and advice from you that of course can be helpful in the future.
Different Types of Food Blogs
Before anything else when it comes to food blogging, you need to understand that there are different types of it.
You can explore so many types and make the choice that fits your requirement and styling.
Talking of how to start a food blog and make money listed are some of the options that you may want to try out:
Food or drink-tasting blogs
Location-specific
Healthy eating blogs
Recipe blogs
Cookbook review blogs
Cuisine-specific
Sustainable cuisine
Once you select the primary topic, it is time that you name your blog.
You can think about the target audience, the style of your blog, and even the topic that can work.
Talking of which some of them on how to create a food blog and earn money:
You can start the topic with a blog name creator
The thesaurus can always help you come across different words
Make use of techniques such as assonance, rhyming, and even alliteration
Put the spin on some common idiom and even saying
Once the topic gets settled and there is a name it is time that the blog is started well.
How to Start a Food Blog and Make Money [Step-by-Step Guide for Beginners]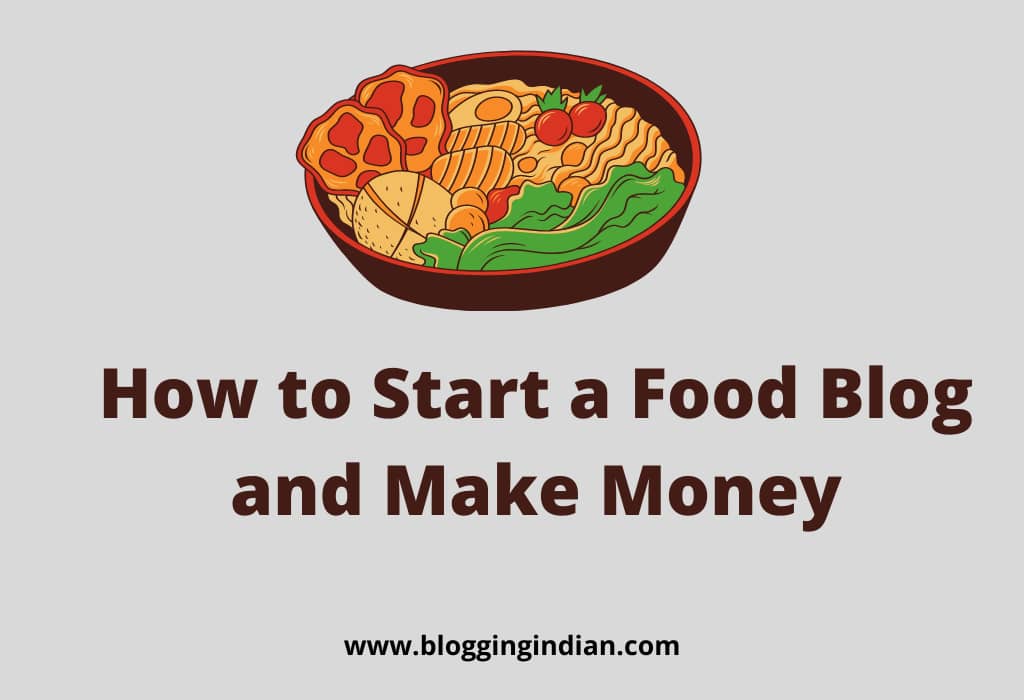 Step 1: Choose Your Food Niche
The very first thing that you should be doing how to start a food blog and make money is to come up with a niche.
This industry of food blogging is quite huge.
You can have not just exposure but a great learning experience.
If you want to make a good quality food blog then you must focus on choosing a niche in which you can specialize.
The niche that you choose shall depend on the food type that you are passionate about. Some of the niches could possibly be:
Healthy Meals for families
Pre-workout snacks
Food on a budget
Vegetarian or vegan food
All things baking
Gluten, carb, or sugar-free dishes
Food for pets
DIY food recipes
Once the niche is decided it is time to create some interesting recipes and share them with the readers.
You will be on the next step of creating the food blog.
Step 2: Buy WordPress hosting and install WordPress
The open-source yet free WordPress software is the finest and the most popular way to create a website when it comes to how to start your own food blog and make money. Talking of which food blog is a part of it.
Also Read: How to Start A WordPress Blog on GreenGeeks Hosting  [Step by Step Guide]
When it comes to beginning the food blog and earning money from it, the self-hosted WordPress software is the best thing to do.
In order to run the best of the WordPress tool, you need to buy your own web hosting solution on how to start a successful food blog and make money Beginners can always look for professional options as they can help you:
Get the wizard that can help in the Automatic installation of the WordPress
Let you buy the name of the domain using the similar interface
Set up the tools and even install the free SSL certification
Have the best team that can offer the personalized chat supporting tool
Make use of the SG optimizer to keep the site healthy
Once the sign-up process is done for the hosting, it is time to go ahead with the WordPress installation process.
Step 3: Choose whether you want a food blog theme or a recipe plugin
If you shall be making a website for a certain purpose like the food blog then it is important to choose to build for a theme purpose when it comes to how to start your own food blog and make money.
This can be the best thing to do.
But there are so many efficient WordPress plugin recipes to look out for.
This way you can showcase the recipes on the website in the right format.
Food plugins + generic theme:
This could be a little bit complex when it comes to setting up as there are so many things that need to be put together in different parts.
But for better flexibility, this is the right choice to do.
Besides, it is also more like a sandbox that can allow you to pick any theme of your choice
This option is extremely easy, to begin with, but there are some restrictions with it since the functionality is built-in.
The reason why WordPress Themes can be efficient is that it controls the whole design and appearance of the website.
There are more than thousands of free WordPress themes that are available from which the installation can be done easily.
But it is not necessary that everything can be best suited for a food blog.
Because when it comes to such type of blogging the focus should be to choose a theme matching the ideas and enhancing the overall branding.
Easy ways to get the right theme
One of the benefits to have a popular platform such as WordPress is that there are ample of free themes available.
People must have made thousands of options that are readily available and can be used on the blog.
Look for a Premium Theme:
Since these are designed by the experts and are visually appealing too, you can consider this option.
Besides, you also get better functions and features that your hassle on how do I start a food blog and earn money can end.
It comes with good support that can offer better help as and when needed. Options like Astra and Divi are the best.
If you have been looking for the original theme or the unique one for the food blog then it is important to pay for the WordPress theme which is a custom-designed one.
This can be quite a pricy choice which can take quite some time to finish. It can be a great option for expanding your food blog in the future when it becomes a great hit.
It does not matter what kind of theme you choose, focuses on the one reflecting your style that can convey the message that you have been trying to.
Step 4: Showcase beautiful images and videos of your food
It is time that you focus on letting the audience grab more attention on the food blogging that you have created.
For this, you can always go up and put the best visuals that can have a stinger impact. Now you can choose some interesting dishes that can look enticing for the visitors.
The visualization that is quite beautiful can grab the attention of more visitors.
Besides, photos can always work as a demonstration for even making complex cooking look easy.
It works as additional support for the instructions of the recipe. Videos can be useful in this scenario too.
Make sure you have the best cooking experience.
In case the theme doesn't really give the much-advanced gallery and functionality of the album then it is always important to install the photo gallery.
This type of plugin is available free of cost and it even lets you add the galleries that could be the responsive ones.
Adding albums on the site can always do wonder.
Both videos and images can be added in a single gallery and even Vimeo, YouTube, and such options work the best to enhance the display of the recipe.
Step 5: Add rich snippets to your blog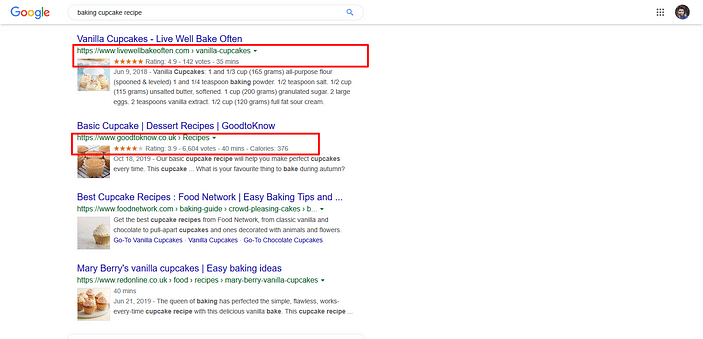 It is important to focus on the rich snippets.
It can work best for search engine results.
Besides, it shall also give you additional support to grab the attention of the reader and even improvise the clicks with each rate.
The snippets that are quite rich are for those extra details that usually are seen along with the meta description on the listing.
Such tiny bits can also give your site a better boost and can be featured on the rich card which can be seen on mobile devices.
In order to publish the recipes on food blogging, it is always wise to add rich snippets on the site and get all the SEO advantages.
Step 6: Promote your blog and grow your audience
Once the base is ready it is time to focus on the promotion and when it comes to the promotion then nothing can beat social media.
The need for social media in today's time has increased especially for small-scale businesses.
Whether it is Instagram, Pinterest, or other such platforms, they can do wonders for food blogging options.
Also Read: How to Make Money on Pinterest
The focus of such social media is to have an image-heavy approach.
This means you can add lovely food images to grab the attention of the readers:
In order to offer a better promotion to the site you can:
Add the button of social media share and thus let other visitors share your recipes on the channels of social media
It lets the Pinterest-rich pins see the recipe in detail directly on the pins. This increases the repin options too
Make the right use of an attention-grabbing Instagram feed that is interactive too on food blogging to improve the Instragam following.
Step 7: Earn money from your food blog
Once the whole food blogging setup is done, it is time to earn money from it.
You can opt for different ways such as:
With affiliate programs, there will be some of the best cooking products, recipe books, and even other cooking paraphernalia that you can add to the blog.
Also Read: Affiliate Marketing Mistakes to Avoid
Every time when a visitor purchases a product, you will be notified of the same and given a commission.
This in other words is an eBook. You can sell it on your website or on a platform like a marketplace such as Amazon.
There is also a concept called sponsored post in which you can pay for advertising the site or charge people to advertise on your site or blog post.
There are so many options for how to make money with a food blog and even different strategies can be applied to make money online.
But the above-recommended choices can be quite useful for food blogging.
Conclusion on How to Create a Food Blog and Earn Money in 2023
Certainly, with all things set above, it is pretty much clear how to start a food blog and make money.
It is however better to initially take time and understand things around.
Sometimes you need to notice things around you and how it works so that when it comes to financial rewards, you will make quite a worth of it.
Also Read:
How to Start a Blog in India (Step by Step)
Common Blogging Mistakes to Avoid
How to Start a WordPress Blog on Bluehost.com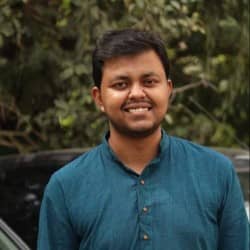 Latest posts by Sufyan Shaikh
(see all)